Just another WordPress.com site
Category Archives: Player news
Targets Preview 1 Offense:
Kyle Orton, QB, Chiefs: Orton is a veteran quarterback that could easily fill the seat until RG3 (or luck) is ready. The acquisition of Orton would be more effective then retaining Grossman due to the simple fact that Orton would give us a better chance at some wins until our coveted rookie is ready. Orton would provide a good character to mentor and due to the few options that would offer him starts, he should not be to difficult to convince, while also not being expensive.
Projected Contract: (2 years, 7 million) 
Vincent Jackson, WR, Chargers: The arguably #1 widereciever option in free agency. He is 29, but has not yet shown signs of backing down. The Redskins desperately need a top receiver, and the reports trickling from sources suggest the Redskins to do almost anything to get him. In all honesty, I'll be very surprised if he is not signed to the Redskins by Wednesday night.
Projected Contract: (4 years, 45 million)
Eddie Royal, WR, Broncos: A less impactful signing, but a type of low risk, high reward acquisition. He produced very effective statistics after being drafted by Shanahan. The simple connection is enough to make me believe in a reuniting of sorts.
Projected Contract: (1 year, 2 million, heavy incentives) 
Samson Satele, G, Raiders: I do not expect the Redskins to be able to acquire Carl Nicks, Ben Grubbs, or Chris Meyers, so Satele is the next best option at only 27 years of age. He helped the Oakland line bulldoze over opposing defenses in 2011. The Redskins will sign a offensive lineman, not allowing RG3 to be behind the current makeup, the only question is who
Projected Contract: (5 years, 30 million)
Preview Number 2 on the defensive side is coming tomorrow 
So as you all are aware, the Washington Redskins sent an earthquake through the NFL with a strategic move into the second pick of the draft.
In the trade with the St. Louis Rams, the Redskins have given the first round picks of the next 3 years (2013, 2014) and the second round pick of this year. So in reality, we have given two first round picks and a second round pick to move up four selections.
The price was steep, garnering a rash of critics, from ESPN insiders, to all around the NFL, and to the arm-chair general managers that call themselves fans.
With that second selection in the draft, the Redskins are expected to choose Robert Griffin III (given that the Colts would do the expected and make Andrew Luck the 1st overall pick). Robert Griffin III comes from Baylor, playing in a spread offense that is considered translatable to the pro offense that the Shanahan's have implemented. Griffin carries an illustrious college resume to the pros in which he brought Baylor to a bowl game, won the Heisman, and proved to be one of the most athletic quarterbacks in recent memory.
Griffin combines the size of Tebow (well height at least) , he is arguably faster than Micheal Vick (minus the poor character, needless to say I don't expect griffin to fight any select animals) and he is a very smart guy (graduating with a 3.67 GPA in political science and is currently studying a masters in communications).
Simple reviews of the guy will make any fan excited about him, being that he is the smart and amazing athlete that every fan can root for. But the question is, is he worth this? Is he worth such valuable draft picks? Can he be the franchise quarterback that us as fans have begged for? The Redskins simply cannot continue this trend of awful quarterbacks, we want and need a star as our quarterback, not Grossman, Beck, Ramsey, Brunell, Campbell, and the rest of the dreary list.
Griffin comes into the pros with some of the most pressure that can be put on a young man. So was he worth the price, the future of our franchise? The simple answer is yes, yes a possible franchise quarterback was worth every bit of those draft choices. The Redskins made a calculated risk, a risk that had to be done. Shanahan and Bruce Allen know that in the modern-day NFL, a franchise quarterback is crucial towards success. Ask yourself, when was the last time you saw a team win with an awful quarterback? This modern age will not see another Ravens team win the Superbowl with the leadership of Trent Dilfer. The Patriots have Brady, the Colts had Manning, the Giants have Eli, the Steelers have Big Ben, the Saints have Brees, the Packers have Rodgers, the Redskins will have RG3, the Colts will have Luck.
The Redskins did not make a mistake, they told the fans that they're ready to win. They are ready to win under the wings of Robert Griffin III.
School records
2008 Rushing yards by a freshman: 843
2008 Rushing yards by a QB: 843
2008 Rushing yards Per attempt (Game): 20.45 vs. Washington State, (11 for 225 yards)
2008 Rushing TDs (Season): 13 (tied)
2008 Rushing TDs by a QB (Season): 13
Rushing TDs by a QB (Career): 23
100-yard Rushing games by QB (Season): 4
100-yard Rushing games by QB (Career): 5
Career Rushing Stats
| | | | | | | |
| --- | --- | --- | --- | --- | --- | --- |
| 2011 | | 179 | 699 | 3.9 | 49 | 10 |
| 2010 | | 149 | 635 | 4.3 | 71 | 8 |
| 2009 | | 27 | 77 | 2.9 | 15 | 2 |
| 2008 | | 173 | 846 | 4.9 | 63 | 13 |
Career Passing Stats
| | | | | | | | | | | |
| --- | --- | --- | --- | --- | --- | --- | --- | --- | --- | --- |
| 2011 | | 291 | 402 | 72.4 | 4293 | 10.7 | 37 | 87 | 6 | 189.5 |
| 2010 | | 304 | 454 | 67.0 | 3501 | 7.7 | 22 | 94 | 8 | 144.2 |
| 2009 | | 45 | 69 | 65.2 | 481 | 7.0 | 4 | 42 | 0 | 142.9 |
| 2008 | | 160 | 267 | 59.9 | 2091 | 7.8 | 15 | 61 | 3 | 142.0 |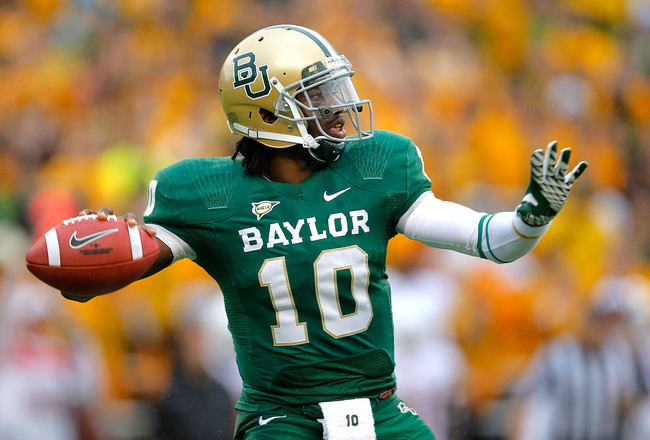 Photo credit goes to Sarah Glenn/Getty Images, found on Bleacher Report
It's a rare thing in this league to have two tight ends who have the talent to be perennial probowlers. On one corner you have Fred Davis, pretty much a tall widereciever who lacks the needed blocking skills, on the other corner you have Chris Cooley, fan favorite, tough SOB, and all around well-rounded tightend. What I have recently noticed from the Redskins fan base is a tug of war between whose better. You have the one side claiming the budding star Fred Davis, claiming they love his speed and his hands. The enemy of them are the Cooley fans, holding dear to our beloved #47 who still has the work ethic and the skill to make several more probowls. Well I have decided to be the Ghandi in this, ladies and gentlemen, I want peace, Why can't we love both tight ends? Why can't we give Rex "Unleash the Dragon" Grossman the matchup hell which is two strongly skilled tightends. No answer to that folks? Because I am right, With Fred Davis and Cooley combined the Redskins receive an advantage over other teams in this league, one of the few advantages we can actually lay claim to. We have two guys who honestly can have 80-100 yards and multiple touchdowns every game. Fred Davis proved that Sunday receiving 5 receptions for 105 yards. Chris Cooley showed his continued value with solid blocks and 2 catches for 21 yards. Both offer versatility and represent a very valuable chunk of the Redskins Shanny offense. Why should we lose that? Why have trade Cooley threads? Or trade Davis threads? I'm telling you right now, we would have to receive an empire in return for either player, not the 3rd round pick fans were clamoring for, that's no empire, that's a colony. Fred Davis is in a key season, his contract season. Davis has been on record many times claiming he wants to be a featured tight end, Davis is a featured tight end in our system with improved stats across the board ahead. The front office is in an easy situation to me, re-sign the guy, keep the best tight end tandem in the NFL in Washington. Heres to Cooley and Davis crossing up the Cardinals defense this week, and heres to them crossing up defenses for years to come. HTTR
I encourage you to subscribe, like our facebook page, and most importantly follow us on twitter, thanks for the views
Cheers Redskins Rave
According to http://profootballtalk.nbcsports.com Chris Cooley has lost 20 pounds over the offseason. Questions run through my mind when I read this, will Cooley gain speed and become an infinite monster? Will his blocking in the zone blocking system improve? Will he lose his physicality we all know and love? And last but not least is this fat or muscle he lost? If he lost fat and kept his muscle despite his knee then we should expect improved blocking, speed, and most important crisper routes. Maybe he's feeling the heat from Fred Davis, personally I cant wait to see our shiny new slim Cooley, HTTR!
Lately Redskins nation has been fretting over the health of LaRon Landry, understandable of course, he is a safety the fans love, holding the graceful combination of speed and huge strength. But as we all know by now he will miss this and possibly next weeks games with his slow healing hamstring. So we all ask who is going to replace him? Are we doomed against the Giants passing attack? My answer…no, not at all, who is going to be in? Reed Doughty, our pasty skinned boring good ole safety. Now I know, I know, Reed has had his fair share of bumps in the road, but he is actually one of the most consistent guys on the team, you have to look past the stats and the occasional blown coverage. Doughty a skins player since drafted in 2006 offers high character, great special teams, and he is proven to be one of the teams best tacklers. Something you need when considering D. Hall isnt exactly the best tackler in the league….
sighhhhh
Now I know that Doughty is not the best cover safety on the team getting beat more often then normal, but I can assure you he is a better option then Horton ever was and is better then the rookie D. Gomes who is still very raw. Doughty offers a knowledge of the defence, a physical presense (the guy can actually hit), and alot of gameday experience. I can guarantee you Doughty will not get beat anymore then our boy LL (flash back to the Eagles game, D.Jackson) This doesnt mean I feel like we can lose LL, he has much more strength and speed then Doughty and well obviously is more of an athlete, But am I saying its not exactly an automatic loss without LaRon? Yes I am saying that. There is a reason this team re-signed him, no matter how many people call for his head he is easily one of the best backup safeties in the league and a league average starter. When LL comes back Doughty will go back to our Special team standstill and just keep working, you can deny it all you want but this guy is who we want on our team, a guy who works hard and does whatever is to be told, Maybe its just me, but I feel like Reed is in for a solid year. In Reed I trust, I'll eat any crow you make me if he does bad in the Giants game, because with a better front and a better Free Safety lining up next to him, maybe just maybe he wont be as vulnerable to getting beat as the past. This is something Im excited to really see this Sunday, O football is back my people, feels great to say that
Cheers!