Just another WordPress.com site
Yesterday the National Football league laid down a hard penalty that shook throughout the teams. What was expected was backlash against the Saints for the bounty system, but unfortunately the league outrageously penalized the Washington Redskins and the Dallas Cowboys for improper Cap usage.
While I admit that I am obviously a Redskins fan, and obviously biased, I can manage to look at this in a neutral manner. Even in a neutral viewpoint I think this is the hugest pot of bull****. The National Football League penalized the Redskins 36 million and the Cowboys 10 million against their caps, completely hampering an exciting off-season that had the Redskins with nearly 40 million in Cap.
What the NFL has done is unprecedented, penalizing a team in a uncapped year, basically placing a cap on an uncapped year. The league has penalized the Redskins and Cowboys for taking advantage of smart financial planning, they at no point broke a written rule. The two teams were penalized for having an unfair advantage on fellow competition, fellow competition that simply did not pursue smart contracts with players.
The NFL had to get approval from the Union to make such penalties. When the Union was faced with their decision, they have been reported to have had two options, no penalties to the accused parties and the Cap amount for each team drops approximately 4 million, or each of the members teams would receive 1.6 million in Cap boost, excluding the Raiders and Saints.
What the league has done is blackmail, threatening each team with a loss of 4 million dollars or a gain of nearly 2 million dollars. The Union of course reluctantly accepted the 1.6 million, thus making it possible to enact penalties upon the Skins and Boys.
In addition, every single transaction of both teams in the 2010 and 2011 years were approved by the league office, as in the very commissioner that is now finding fault with these franchises.
So lets review the facts:
Skins are penalized in an uncapped year, a year in which teams are allowed to do as they wish with the salary cap
All free agent signings of both teams in the league years of 2010 and 2011 were approved by the league office
The fact that 46 million dollars is being given to 28 other teams is naturally unfair, afterall isn't it fairness that the league is pursuing 
The sequence of events in relation to the League Union was basically blackmail, not allowing the Union to make an intelligent decision. 
These violations, at least in the Redskins case, are for 2 players, 1 who is gone, and one who could easily find himself out the door in the coming days.
There is no written rule
The fact that NFL Network is just now reporting this is fairly suspicious at the very least. 
The league has made a preposterous mistake, penalizing innocent teams. The Cap charges are some of the most severe seen in the history of the league. All facts point to corruption in the league office. This is not about a level playing field, this is about the league flexing its muscles. No matter if biased or not, if a fan of the 2 teams or not, there is one thing that can be concluded, this is Class A Bull***.
The idea of a lawsuit has been offered by several sources, and arguably is justified. Dan Snyder and Jerry Jones have sued for less, it is now within their ballpark, it is their decision on exactly how to react to outrageous action by the NFL.
Bruce Allen's response:
"The Washington Redskins have received no written documentation from the NFL concerning adjustments to the team salary cap in 2012 as reported in various media outlets. Every contract entered into by the club during the applicable periods complied with the 2010 and 2011 collective bargaining agreements and, in fact, were approved by the NFL commissioner's office. We look forward to free agency, the draft and the coming football season."
Hail To The Redskins
Targets Preview 1 Offense:
Kyle Orton, QB, Chiefs: Orton is a veteran quarterback that could easily fill the seat until RG3 (or luck) is ready. The acquisition of Orton would be more effective then retaining Grossman due to the simple fact that Orton would give us a better chance at some wins until our coveted rookie is ready. Orton would provide a good character to mentor and due to the few options that would offer him starts, he should not be to difficult to convince, while also not being expensive.
Projected Contract: (2 years, 7 million) 
Vincent Jackson, WR, Chargers: The arguably #1 widereciever option in free agency. He is 29, but has not yet shown signs of backing down. The Redskins desperately need a top receiver, and the reports trickling from sources suggest the Redskins to do almost anything to get him. In all honesty, I'll be very surprised if he is not signed to the Redskins by Wednesday night.
Projected Contract: (4 years, 45 million)
Eddie Royal, WR, Broncos: A less impactful signing, but a type of low risk, high reward acquisition. He produced very effective statistics after being drafted by Shanahan. The simple connection is enough to make me believe in a reuniting of sorts.
Projected Contract: (1 year, 2 million, heavy incentives) 
Samson Satele, G, Raiders: I do not expect the Redskins to be able to acquire Carl Nicks, Ben Grubbs, or Chris Meyers, so Satele is the next best option at only 27 years of age. He helped the Oakland line bulldoze over opposing defenses in 2011. The Redskins will sign a offensive lineman, not allowing RG3 to be behind the current makeup, the only question is who
Projected Contract: (5 years, 30 million)
Preview Number 2 on the defensive side is coming tomorrow 
So as you all are aware, the Washington Redskins sent an earthquake through the NFL with a strategic move into the second pick of the draft.
In the trade with the St. Louis Rams, the Redskins have given the first round picks of the next 3 years (2013, 2014) and the second round pick of this year. So in reality, we have given two first round picks and a second round pick to move up four selections.
The price was steep, garnering a rash of critics, from ESPN insiders, to all around the NFL, and to the arm-chair general managers that call themselves fans.
With that second selection in the draft, the Redskins are expected to choose Robert Griffin III (given that the Colts would do the expected and make Andrew Luck the 1st overall pick). Robert Griffin III comes from Baylor, playing in a spread offense that is considered translatable to the pro offense that the Shanahan's have implemented. Griffin carries an illustrious college resume to the pros in which he brought Baylor to a bowl game, won the Heisman, and proved to be one of the most athletic quarterbacks in recent memory.
Griffin combines the size of Tebow (well height at least) , he is arguably faster than Micheal Vick (minus the poor character, needless to say I don't expect griffin to fight any select animals) and he is a very smart guy (graduating with a 3.67 GPA in political science and is currently studying a masters in communications).
Simple reviews of the guy will make any fan excited about him, being that he is the smart and amazing athlete that every fan can root for. But the question is, is he worth this? Is he worth such valuable draft picks? Can he be the franchise quarterback that us as fans have begged for? The Redskins simply cannot continue this trend of awful quarterbacks, we want and need a star as our quarterback, not Grossman, Beck, Ramsey, Brunell, Campbell, and the rest of the dreary list.
Griffin comes into the pros with some of the most pressure that can be put on a young man. So was he worth the price, the future of our franchise? The simple answer is yes, yes a possible franchise quarterback was worth every bit of those draft choices. The Redskins made a calculated risk, a risk that had to be done. Shanahan and Bruce Allen know that in the modern-day NFL, a franchise quarterback is crucial towards success. Ask yourself, when was the last time you saw a team win with an awful quarterback? This modern age will not see another Ravens team win the Superbowl with the leadership of Trent Dilfer. The Patriots have Brady, the Colts had Manning, the Giants have Eli, the Steelers have Big Ben, the Saints have Brees, the Packers have Rodgers, the Redskins will have RG3, the Colts will have Luck.
The Redskins did not make a mistake, they told the fans that they're ready to win. They are ready to win under the wings of Robert Griffin III.
School records
2008 Rushing yards by a freshman: 843
2008 Rushing yards by a QB: 843
2008 Rushing yards Per attempt (Game): 20.45 vs. Washington State, (11 for 225 yards)
2008 Rushing TDs (Season): 13 (tied)
2008 Rushing TDs by a QB (Season): 13
Rushing TDs by a QB (Career): 23
100-yard Rushing games by QB (Season): 4
100-yard Rushing games by QB (Career): 5
Career Rushing Stats
| | | | | | | |
| --- | --- | --- | --- | --- | --- | --- |
| 2011 | | 179 | 699 | 3.9 | 49 | 10 |
| 2010 | | 149 | 635 | 4.3 | 71 | 8 |
| 2009 | | 27 | 77 | 2.9 | 15 | 2 |
| 2008 | | 173 | 846 | 4.9 | 63 | 13 |
Career Passing Stats
| | | | | | | | | | | |
| --- | --- | --- | --- | --- | --- | --- | --- | --- | --- | --- |
| 2011 | | 291 | 402 | 72.4 | 4293 | 10.7 | 37 | 87 | 6 | 189.5 |
| 2010 | | 304 | 454 | 67.0 | 3501 | 7.7 | 22 | 94 | 8 | 144.2 |
| 2009 | | 45 | 69 | 65.2 | 481 | 7.0 | 4 | 42 | 0 | 142.9 |
| 2008 | | 160 | 267 | 59.9 | 2091 | 7.8 | 15 | 61 | 3 | 142.0 |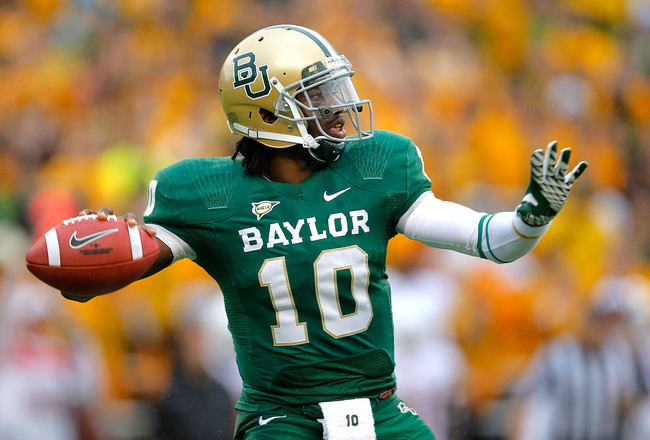 Photo credit goes to Sarah Glenn/Getty Images, found on Bleacher Report
I go into this game with less enthusiasm than any Dallas vs. Washington game. The team smells of failure and the problems just keep stacking up. Problems faced this week is Laron Landry's injury, the offensive line becoming even more injured (how that is possible I don't even know) and we still are left with Rex Grossman as our starting quarterback. On the Dallas side they come to town after an absolute romping of the Buffalo Bills (team we got shut out by). The Redskins defence has been the heroes of the season, holding teams from the brink of blowouts and actually keeping the games partially interesting (emphasis on the partially). The Dallas defence has improved all season with the always intimidating presence of DeMarcus Ware. This is a mismatched game, with a talentless team facing a team that seems to be on the unfortunate rise.
Prediction time: Cowboys: 24 Redskins: 13
The game wont be the blowout everyone is predicting, but it will be a complete victory for the Cowboys. DeMarco Murray will tear the defense up, Romo will have a solid game, Kerrigan and Orakpo have a sack each, Tashard Choice gives the best running game of a skin in weeks with 80 yards, Rex Grossman continues to suck. This is a sad day in Redskins history, it's the first time that a fan predicting victory against our hated rivals will be considered crazy. 
The Eagles come to town with a 1-4 record, a far cry from the "dream team" expected. The run defence is what was expected, terrible, But the all harolded pass defence has been extremely vulnerable. The Eagles offense has produced but is inconsistent. They are figuring out what us Skins fans have many times, you cannot buy a championship.
Score Prediction: Redskins 24 Eagles 21
Another heart attack pack finish, it'll be close and back and forth but I fully believe the Redskins can pull this one out, Grossman will be under pressure all game but give a reasonable effort. The running game will be huge in this game, Torain, Hightower, and Helu all getting over 40 yards. Defence will be solid with a couple sacks, but as always a big play will likely be given up, as always I expect the Redskins to pull out a victory, HAIL
Predict Stats
Grossman-20/32 215 yards 1 TD
Torain-15 carries 85 yards 1 TD
Hightower-10 carries 52 yards
Helu-8 carries 40 yards 1 TD
Moss-3 rec 55 yards
Davis-4 rec 72 yards 1 TD
Stop Vick-Obvious one right here. Vick is what runs the Eagle offense. If we manage to stop Vick and that's a fairly large if, then we stop the Eagles offense. Vick struggles with recognizing pressure so I expect Haslett to produce plenty of confusing formations. But we cannot over blitz, we can not allow many Quarterback runs. Vick is already a weak passer so the only way he will truly beat us is if he runs and jukes us out of his mind.
Run the ball-We have 3 extremely talented runningbacks, Ryan Torain for his power and drive, Hightower for his solid cutbacks, and Helu for his speed and change of pace. To the weak Eagles defence, this is the 3 headed monster from hell. The key to victory isn't giving Grossman the chance to make mistakes, it's giving our runningbacks the chance to make plays.
Brandon Banks must improve-He is just not the same last year, is it the new rule? Other elite kick returners have had no trouble with this rule. Brandon needs to be giving us more production on returns, if he doesn't you have to wonder if there really is a place for a guy that can only return.
Less Penalties-The Rams game was heavy in penalties, the Skins cannot afford to shoot themselves in the foot.
Trent Williams vs. Trent Cole-This is a key matchup, when Grossman is under pressure he makes mistakes, so thus we need to protect him from one of the best pass rushers in the league. This is the preview to the future, Trent will be facing Cole until one of their contracts runs out, can Trent finally prove worthy of his high selection?
Brown vs. Babin-Babin graces Fed Ex field with his presence today. Key matchup of the game. If Brown does not match up well Grossman will be on his face constantly and well you cannot win when such a thing is happening
Redskins 24 Rams 10
I feel like this is the Game the Skins will redeem themselves with.
Key Stat projections
Grossman: 24/36 246 yards 2 TD's 0 INT's
Hightower: 23 carries 86 yards 1 TD
Helu: 8 carries 42 yards
Moss: 5 catches 70 yards 1 TD
Davis: 6 catches 85 yards
Cooley: 3 catches 40 yards
Orakpo: 1.5 sacks
Kerrigan: .5 sacks
___________________________________________________
Predicting the ways we score
1st quarter:
TD and TD
2nd quarter:
no scores
3rd quarter:
field goal
4th quarter:
TD
The Redskins go up against the Rams after a pathetic loss to the hated Cowboys. The Rams have many problems that will be revealed and the Redskins need to earn their redemption against them.
1) Get Pressure on the QB-The Rams offensive line is one of the worst in the league. I expect Haslett to go big with blitzes all day. Sam Bradford is the most hit quarterback in the NFL. I don't see why the would change against our Kerrakpo combo with a heavy dose of safety blitz's. The Redskins can't under achieve against this unit, the Redskins must capitalize on weakness.
2) Grossman needs to halt the turnovers-Ever sense week 1,  Grossman has been who we all thought he was. A reasonable QB who fumbles like no other. Grossman clearly has trouble seeing pressure on his blind side. To be successful he has to protect the ball, all he needs to do is throw another hand on that ball instead of putting it out there as a sweet delicious treat the other team can have.
3) Brandon Banks needs to breakout-Brandon Banks is solely on this team to make big plays, mainly to get that kickoff past that 20 yard line. Banks has been an extremely average returner thus far, disappointing because it is his job, We need the huge flashes of brilliance we had in the preseason. But in all reality it isn't all on Banks, the kickoff blocking team needs to improve majorly, get on that Danny Smith.
4) Deangelo Hall needs to stop getting beat-The secondary has been solid so far, Josh Wilson has been playing great, Landryplayed well for his first game back, and OJ has made some very good plays. Then you look at Hall, the man who on every big play we've given up, he was the guy covering. Hall gives far too much room for the receiver to get the pass. Last year was the same deal but we let it go because of his interceptions. Well he isn't getting interceptions so thus he looks terrible. Time to step it up Deangelo Hall.
5) Chris Chester needs to step it up-Chris Chester allowed 6 QB hurries on Monday night. That isn't just bad that is absolutely horrible. Chester needs to stop getting pushed around or he could easily lose his job, showing another waisted 20 million dollars. Chester is heard of for his athleticism, that I havent even seen. It would benefit the team for him to get to his successful level.
Redskins 27 Cowboys 20
The Redskins never win a game that isn't close. This game will be no different. The game will be a hard-fought game with a lot of shoving and fighting in the trenches.
Scoring Guess:
Romo to Jason Witten-1st quarter
Grossman to Fred Davis-1st quarter
Hightower 10 yard run-2nd quarter
Gano Field Goal-end of half
Romo to Dez Bryant-3rd quarter
Cowboys field goal
Grossman to Moss-4th quarter
Cowboys field goal
Gano field goal
Predicted Stats:
Romo-22/37 256 yards 2 TD's and 1 INT
Grossman-25/34 267 yards 2 TD's and 1 INT
Hightower-22 Attempts 102 yards 1 TD
Helu-8 Attempts 52 yards
Moss-6 catches 88 yards TD
Davis-4 catches 68 yards TD
Orakpo-Sack
Laron Landry-Sack